[ad_1]

The rain on the fifth day enabled the first Test match between England and India to end in a draw in Trent Bridge.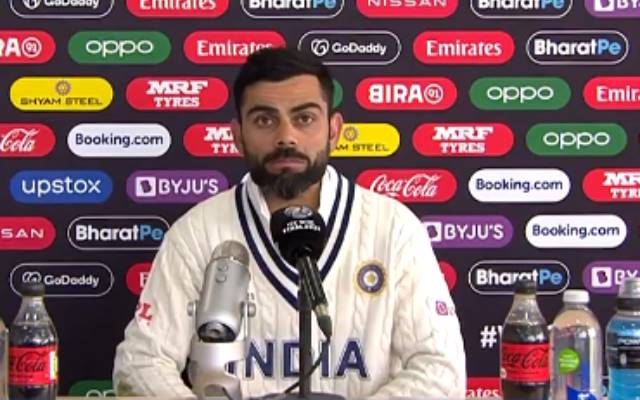 Indian skipper Virat Kohli has strongly stated what will be the team's strategy after the first Test match versus England, which ended in a draw at Trent Bridge. Although rain played a spoilsport washing away the entire fifth day's play, it was the visitor team's bowling attack that made a telling contribution in what would have turned out to be a thriller of a run-chase.
But it was not to be, and India had to be content with the draw. Skipper Kohli has stated his team's strategy for the remainder of the four-Test matches and has said the team will stick to a 4-1 pace-spin combination. The 32-year-old during the toss made the bold decision of playing a sole spinner in Ravindra Jadeja and went with four pacers in Shardul Thakur, Jasprit Bumrah, Mohammed Shami, and Mohammed Siraj.
Although Jadeja could not make much impact with the ball in hand on the first innings, things would have been different, if the rain didn't wash away all the proceedings on day five."We were expecting rain on days three and four but it chose to come on day five. It would have been enjoyable to play and watch, but it's a shame," Kohli said after the match.
Virat Kohli felt India were on top of the game heading into day five
"This is exactly what we wanted to do; start strong. On day five we knew we had our chances. We certainly felt like we were on top of the game."
India were placed 52 for one on stumps of day four and needed a further 157 in three sessions on day five. But spectators and fans could not see India bat through the day and hence had to be satisfied with the draw. Due to some late fireworks by Jadeja and Japsrit  Bumrah, India ended up getting a handy lead of 95 runs in the first innings.
"Getting the lead was crucial, but it's a shame we couldn't finish day five. Getting to fifty overnight was important. We just didn't want to play for survival. Our intent kept us ahead. It's hard work of three odd weeks for bowlers with the bat."


[ad_2]

Source link
Related