[ad_1]

Persistent rain on Day 5 meant the Test ended in draw.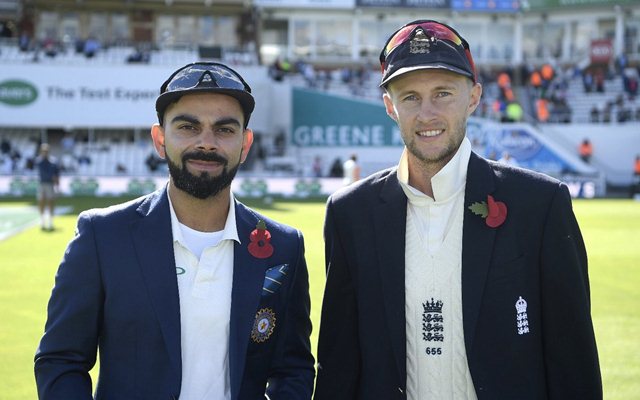 Persistent rain washed out the fifth and final day of the Trent Bridge Test, with the opening fixture of the second cycle of the World Test Championship cycle ending in a draw. Both India and England will meet in the second affair of the five-match series at Lord's from August 12 onwards, having shared the honours in Nottingham.
Going into the final day, India were billed as the favourites, needing 157 runs for a 1-0 lead, with nine wickets intact, after they, on Day 4, managed 52 at the loss of KL Rahul, who got off the team's 209-chase in a brisk style, hitting six fours in his 38-ball 26 before a Stuart Broad peach kissed his outside edge and settled in Jos Buttler's gloves behind.
The fixture would be most remembered for James Anderson's remarkable feat as he eclipsed Anil Kumble's long-unchanged third position as the format's third-leading wicket-taker. With 621 scalps under his belt, he is behind only spin wizards Muttiah Muralitharan and Shane Warne, who have 800 and 708 Test wickets, respectively.
Hosts England would also be mighty pleased by the stellar effort of Joe Root, who put behind his lean, 11-innings-long half-century-less rut behind himself and got a half-century in the first innings, followed by his 21st Test century in the second. Root's was an effort that in the hindsight does look like a match-saving one. Deservingly, he was awarded the Player of the Match.
England skipper and Player of the Match Joe Root:
The weather disrupted what would have been a very interesting final day. Great Test match to play in and watch as well. Sets up the series really well and hopefully we can take it into the next games. We certainly believed we could win. We knew we would have opportunities if we took our catches and kept our fields. It's a shame it ended this way. There are certain areas where we want to get better in. We want to get better at the top of the order and take our catches. We need strong characters. We want to keep that enthususiasm in, it is fun scoring runs and a fun game. Really relishing the opportunities in front of us. We have to deal with till the schedule changes and the setup changes. The experienced guys have it easier going from white ball to Test cricket, but the youngers guys might not have that experience. It must be quite challenging for our youngsters, but that's no excuse. To finally get to my century was a relief given how I played throughout the day. I think India have a very good seam attack and credit to them for the way they bowled. I just wanted to put the pressure back on them with a few shots. Certainly feel full of confidence on the back of that.
India skipper Virat Kohli:
We were expecting rain on days three and four but it chose to come on day five. It would have been enjoyable to play and watch, but it's a shame. This is exactly what we wanted to do; start strong. On day five we knew we had our chances. We certainly felt like we were on top of the game. Getting that lead was crucial, but it's a shame we couldn't finish day five. Getting to fifty overnight was important. We just didn't want to play for survival. Our intent kept us ahead. It's hard work of three odd weeks for our bowlers with the bat. We were talking of a lead of 40-odd but we ended up with 95 and those runs were gold dust. Most likely this will be our template in this series, but adaptability has been our strength. The conditions and the pace on the wicket needs to be seen, but this team will be our template. England and India have always been a blockbuster, and looking forward to the next Test.


[ad_2]

Source link
Related