[ad_1]

Here is the quick wrap-up of the news stories that grabbed the spotlight from the cricketing world.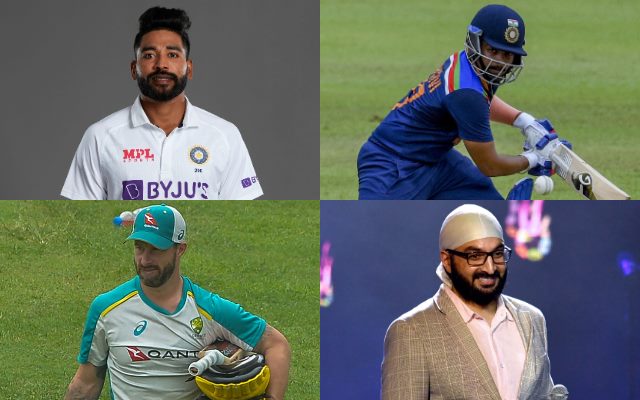 Here are the titbits of news that matter from the world of cricket today.
1. 'Batsmen from both sides will be tested' – Salman Butt on swinging conditions on offer for India-England Test series
Salman Butt reckons that both the England and Indian willow wielders will be tested in the upcoming five-match Test series between the two sides.
2. I'm confident that we will beat England the way we defeated Australia: Mohammed Siraj
Indian pacer Mohammed Siraj has opined that the Indian side will defeat England in the upcoming five-match Test series. Siraj also added that the Indian side is looking strong as well.
3. Suryakumar Yadav and Prithvi Shaw test COVID-19 negative, set to join Team India in England
Prithvi Shaw and Suryakumar Yadav will now fly to the United Kingdom to join the Indian cricket team for the Test series against England.
4. BAN vs AUS: Matthew Wade to lead Australia in five-match T20I series
Matthew Wade will don the skipper's hat for Australia in the upcoming T20I series against Bangladesh. The T20I series will commence on 3rd August 2021.
5. BAN vs AUS: Riley Meredith ruled out of the five-match T20I series against Bangladesh
Australian fast bowler Riley Meredith has been ruled out of the five-match T20I series against Bangladesh after suffering a side strain.
6. 'Don't want to come between cricket and politics' – Monty Panesar withdraws from KPL after alleged BCCI threats
England cricketer Monty Panesar has withdrawn from the upcoming Kashmir Premier League as he is just starting his career in sports media and wants to work in India in the future.
7. Reports: England players might feature in IPL 2021 second leg as Bangladesh tour likely to be postponed
A report has stated that the England players might take part in the second half of the 14th IPL edition as England's tour to Bangladesh will most probably be postponed.
8. 'Yeah, it's the right call' – Eoin Morgan backs Ben Stokes' decision to take break from cricket
England's limited-overs captain Eoin Morgan has lent his support to Ben Stokes and stated that the England all-rounder has taken the right call to take a break from cricket.
Follow CricTracker for all the latest cricket news from around the world


[ad_2]

Source link
Related