[ad_1]

James Anderson got the prized scalp of Indian skipper Virat Kohli for a golden duck in the first Test match in Trent Bridge.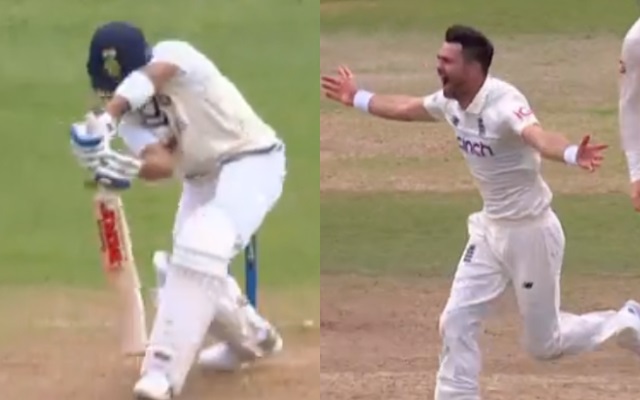 The rivalry was pitted and the two modern-day great players James Anderson and Virat Kohli went against each other in the first Test match at Trent Bridge which began on August 4. Anderson's tail was up as he had got the big wicket of Cheteshwar Pujara in the 41st over with a ball that just pitched outside the off stump.
As India's Mr. Dependable was walking back to the pavilion, out came the Indian skipper Kohli. The fans too anticipated a riveting battle between the duo and were hoping for good contest between the bat and ball. But alas, it was not to be, as the Swing King dismissed Kohli for a duck with an absolute peach of a delivery that was again pitched up in the corridor of uncertainty and drew Kohli forward.
With Anderson getting the prized scalp of the Indian skipper for a golden duck, he celebrated with a traditional leap and let out a roar in delight. When quizzed after the day's play of his celebration, Anderson said that Kohli's wicket was big and shifted the momentum in their favor.
"I feel like I've challenged Virat in that area before. He either played or missed or left it. He's always been good enough to sort of get through and, today it was just one of those days where he nicked it. Getting Kohli out that early was quite unusual," Anderson said at the end of the day's play.
James Anderson sheds light on his celebration after taking Virat Kohli's wicket
Anderson finally managed to dismiss Kohli in England after the 2014 Test series. He spoke about how big a wicket it was in the context of the game. "He's such a big wicket. To bowl the ball exactly where I wanted it to and for him to nick it as well. It was just an outpouring of emotions to get the team back into the game. Getting their best player out is something that doesn't happen all that often."
Kohli's wicket was a beautiful delivery by veteran Anderson. It's well-documented fact that the Indian skipper loves to drive. Also, that off-stump area is a bit vulnerable for Kohli at times and Anderson exploited it perfectly.
"To be honest, it's not really something that we thought about too much, particularly to him. What we try to do as a group is trying to challenge that fourth stump area, the defence as much as possible. Obviously to get a couple of quick ones like that is really important, especially with Virat being such an influential player for them. Always good to get him early," Anderson said.


[ad_2]

Source link
Related