[ad_1]

None of this is to write Shaw off. This is more about those who make decisions than whom the decisions are made about.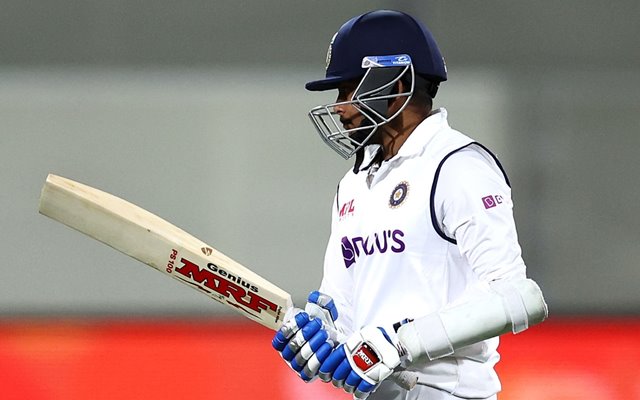 On July 24 (Sunday) the national selectors and the BCCI confirmed that Prithvi Shaw and Suryakumar Yadav, both currently a part of the 25-member squad for Sri Lanka limited-overs series, will fly to England as replacements of some ridiculously unfortunate men.
Both Shubman Gill and Washington Sundar were a part of India's original 20-member squad for the World Test Championship final and the five-Test England series. Gill, however, was ruled out after injuring his shin and has now returned to India.
Crunched between his injury and return to India was plenty of 'who will replace Gill' brouhaha, which eventually even dragged the board president Sourav Ganguly into it. Shying away from making any claims, Ganguly was happy to keep the ball in the management's court, as he clarified his role in these decisions. Fair enough. But what of the management? (Let's move to that in a while).
Covid-19 has changed the cricketing landscape in myriad ways. Given the brand-new contingencies that the virus has introduced into sports, no longer do teams carry only a couple of players over the number they expect themselves to need. A player might contract with Covid-19, or may not but might end up being a close contact of someone who did; some adventurous ones might end up breaching the bio-bubble – a concept that did not exist as recently as a year and a half ago, but now does, and is one where a breach is enough to jeopardize quite much quite easily. (Ask Jofra Archer, or perhaps the Sri Lankan trio of Dickwella-Gunathilaka-Mendis).
And hence, to tackle these never-seen-before contingencies, the never-seen-before concept of jumbo squads. For a nation of India's cricketing calibre, Covid or no Covid, naming jumbo squads will never be a problem. How much of it is true can be evidenced by the fact that India has named not one, but two jumbo squads: including the reserves/net bowlers, the team currently has 49 players – 24 in England, 25 in Sri Lanka – in play simultaneously. Perhaps, the cushion of the enlarged squad saved the management from putting their thinking caps on and mulling a replacement after Gill's injury.
Although as fate would have it, Washington Sundar and Avesh Khan, one of the five reserves on England tour, injured their fingers to crash out of the series. Perhaps in pre-Covid times, a single injury would have been sufficient to force the management to name a replacement. But the times we live in currently, even three exits from the team left India with double the number of players they are legally allowed to field in a game.
Why name replacements, then? And what does it show?
Confusion and lack of trust, macroscopically. Even after Gill's exit, India has as many specialist openers as Rohit Sharma, Mayank Agarwal and KL Rahul. Add to these three Abhimanyu Easwaran, whose numbers (4401 runs in 111 First-Class innings at 43.57) are enough to establish he is not a mug in that slot, and there is the fourth option.
What else should the decision of ramming Shaw in the squad be termed if not lack of trust in the available backup options? Which too, by the way, were named by the same set of people who have now decided to fly in Shaw to England.
In their defence, they have clarified that Rahul is not being seen as a top-order option. (So what if 1915 of his 2006 Test runs, 54 of his 60 Test innings have been as an opener? He is a middle-order batsman. Period.)
Unexplainable: Prithvi Shaw's Test exit and entry 
But why that much trust for Shaw, you ask? That's the confusing part. Shaw's talented and has rightfully earned his spot in the Indian team. But to earn the spot and have an uninterrupted title over it are two different things. His last outing in the whites for India was during the fateful Adelaide Test, an encounter even the mentions of which force an ouch out of the mouth of an Indian fan.
But equally ouch was what Shaw endured in that Test: scores of 0 and 4. Notably, his Delhi Capitals coach Ricky Ponting, who was on-air, highlighted his problem against the incoming delivery, and almost as if on a cue, Shaw was cleaned up through the gates by Mitchell Starc immediately.
Later, Sunil Gavaskar's analysis laid Shaw's technical shortcomings bare in daylight. "You can see he is pushing at deliveries… the trick is to try and play as close to the pads as possible." There was also discussion around how Shaw's high backlift, lack of feet movement, and inadequate weight transfer made him prone to fall against the deliveries that swung or jagged back in, as his bat was not coming down close to his body.
He was subsequently dropped and did not feature in either of the remaining three Border-Gavaskar Tests. In a young career and age, he had seen plenty of ups downs, including a nine-month ban for consuming a prohibited substance. No matter how vexing it must have been to get dropped from the team due to an inadvertent error, it was not as heart-breaking as getting dropped due to lack of delivery and substandard performance. And when that happened, Shaw, unsurprisingly, was dejected and worried.
He made an astounding recovery, albeit in white-ball cricket as he had a chart-topping, record-breaking Vijay Hazare Trophy, where he amassed 827 runs in merely eight innings at a mind-baffling average of 165.40, including four centuries, one of which was an unbeaten 227. Shaw translated that form into the 2021 IPL, where he took Delhi Capitals to thunderous starts, amassing 308 at 38.50 in eight innings at a strike rate of 166.48
All that aside, he was not included in the team during the home Test series against England earlier this year, while he was not named in the original squad for the upcoming series either. His sudden inclusion – even if as a backup – into the Test squad is bound to raise questions.
If Shaw was indeed prepared to face the England challenge, why was he simply not named in the squad earlier? The simplest reason behind dropping players is to let them regain lost form, iron out the shortfalls if any, and give them a chance to force the selectors and management to reconsider them. Notably, Shaw's last red-ball activity was the Test he was dropped after, and there is nothing that establishes he has cemented those chinks in his armour, even if he has shone as bright as the sun in white-ball cricket. It might not be wrong to say that there is nothing barring whim that could be the reason behind his inclusion, then.
More interestingly, Shaw's overseas produce before the Adelaide Test – 16, 14, 54, and 14 against New Zealand – have not been promising either. After all, he is only five Tests old. And that is the reason why he must be dealt with caution.
England has historically been the most challenging of venues for the openers, with odds unfailingly stacked against visiting batters. In seam-friendly conditions and a daunting pace attack laced with the likes of Stuart Broad and James Anderson – who can induce errors from the best in the business, let alone someone with shortfalls as glaring as of Shaw's – sending a player who was dropped to re-establish his red-ball credentials is as dangerous as it is preposterous.
None of this is to write Shaw off who undoubtedly is a prodigal talent and a youngster destined to do great things. But dropping him after Adelaide and selecting him now are things that cannot be right simultaneously.


[ad_2]

Source link